It's the biggest decision you'll make all year, and I mean that. Your first club on Football Manager (if you haven't got FM 21 yet, get it here for £29.99). Think about it. You're potentially going to spend hundreds of hours (thousands in my case) on Football Manager 21, so you'd better not mess up when it comes to choosing who you'll manage.
And honestly, one of the toughest aspects of Football Manager is finding a club, a project, that you really want to get stuck in to. Sometimes it just doesn't click. The excitement doesn't come. The magic.
The worst thing about not knowing who to choose as your first club on Football Manager is that it can sometimes lead to what we call an 'FM rut', where you just can't get passionate about a save. And that sometimes leads to months without playing. It's heartbreaking.
It's happened to me many times, but I've managed to figure out how to get out of these ruts, and I now have a few go-to ways of choosing who to manage on Football Manager.
How To Choose Your First Club on Football Manager
Football Manager Random Save Generator
The best way, without a doubt is to use the Football Manager Random Save Generator to find the perfect challenge for you to take on on Football Manager.
The Club You Support
The majority of players will usually start with the club they support in real life when taking on a new save on Football Manager. And that's usually a good place to start. It's very easy to get stuck into a save with a team you adore. My recommendation is when a new Football Manager drops, ease yourself in with the team you support. You can be more adventurous later on.
Try something completely different
Ok, so you managed the team you support on your last save, and you got sacked or bored of that. Now you want something different. Don't just go from a Manchester United or Liverpool save to a Dortmund or Real Madrid. Go completely left field.
I had a three month rut on FM20. Couldn't get in to a save at all. Then I went on Wikipedia and just started looking at random teams. I ended up starting a save with a completely unknown Danish side called Vanløse, and it's probably my favourite save ever. I'm now in the year 2038.
Your local club
Another of my favourite saves have been with my home side Skelmersdale United. An amateur side down in the non-league. Trying my best to make them a professional club. Then trying to get them into the football leagues. It was so much fun. And if your local club is an amateur side, starting with them may well spark a love for lower league management on Football Manager.
Since my local club save, I've always much preferred managing tiny clubs.
Random Selection
Granted, this can backfire. But it's easy to overthink the team you want to start with. Some projects sound more appealing and romantic. Taking Sunderland back to the Prem, or saving Bolton Wanderers. All the same sorts of challenges. Sometimes you need something completely random. Add a load of leagues on, and just hit that random select button.
Unemployed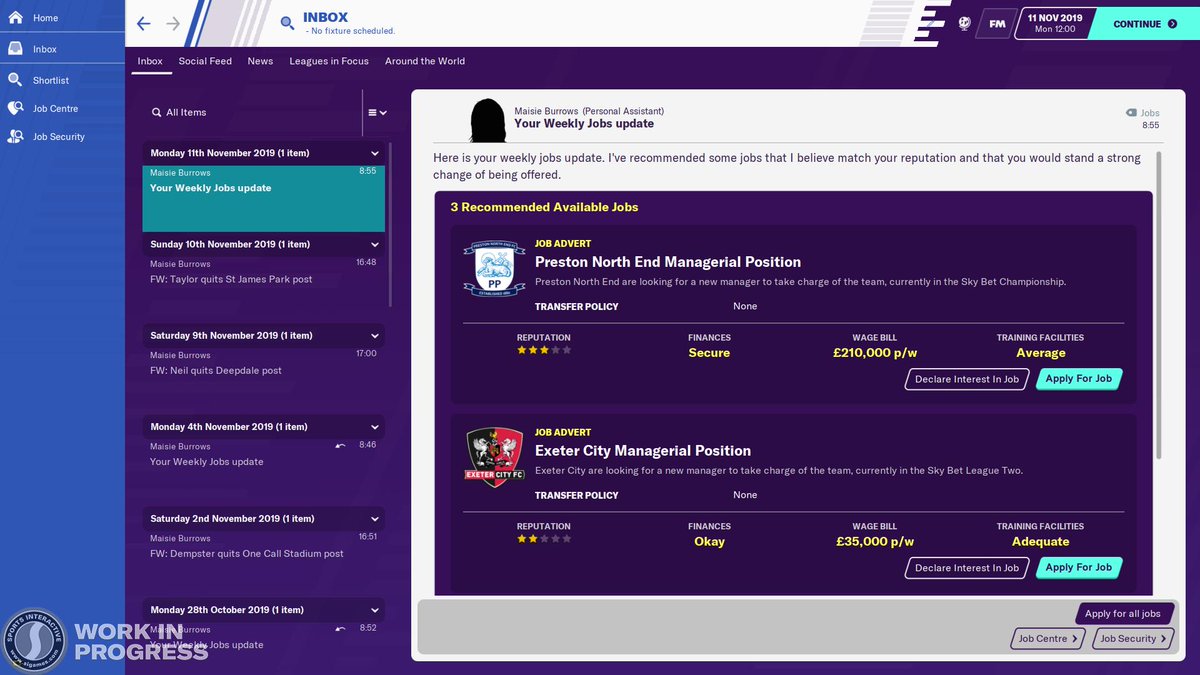 You can't for the life of you decide who you want to manage. So, let the world do the deciding for you. Start unemployed and inexperienced and wait to see who comes knocking. The beauty of starting unemployed is that the challenges that come tend to be more complex, and your managerial debut often starts with a big challenge. Clubs that are rock bottom despite predicting a mid table finish, clubs with financial troubles, clubs who've lost their best player and are desperately in need of a fresh rebuild. Starting with nothing may be the answer for you.
Run meme pages and this website. But spend far too much time on Football Manager to do either very well.